Our Unique Audit Process
Becoming Halal Certified Has Never Been Easier.
We pride ourselves on a simple to follow, yet totally thorough, certification process. In just 4 to 6 weeks our team will help your business reach full halal certification:
Contact Us – Your journey to full compliance starts with an email, call or inquiry through our website.
Develop Contract – Based on the information we gather upfront, our team creates a detailed contract to establish partnership between your business and Halal Certification Systems Canada.
Contract Agreement – After review, you'll send the signed contract back to us so we can start working toward your goals.
Gather Documentation and Data – Using our custom detailed "Mastertable" you'll provide information about your current process, helping us craft a plan that works for you and your business.
Evaluation and Assessment – Our technical experts will look over the documentation and information you provide and establish a plan.
On-site Audit – Once you've made any necessary changes, our technical experts will visit your facility and perform an in-person audit.
Halal Decision – Our religious experts will review your case and discuss halal conformity of your products. Their knowledge in Islamic jurisprudence and religious laws helps you become certified. This is when the final verdict on your halal certification status occurs.
Issuance of Halal Certification – We provide you with you and your business with your final halal certification.
Annual Recertification – In order to ensure you long term growth for your business, our partnership continues beyond your first acceptance as a halal-certified brand. The Halal Certification Systems Canada team will help with continual adherence to standards through yearly recertifications and audits.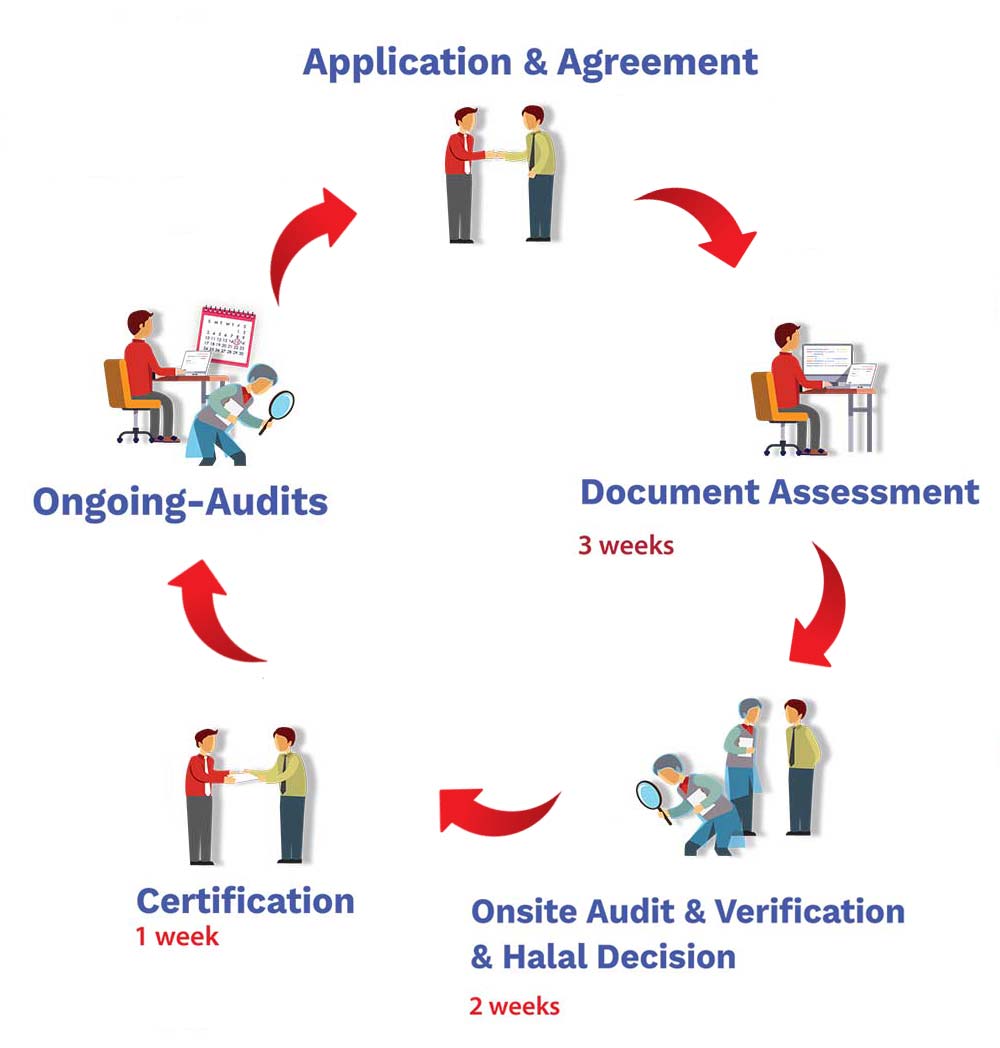 Want to Learn More About Our Recertifications?
Contact us Today!
What is Required to Become Halal Certified?
Custom Workflow to Achieve Standardization
Our approach to certification is different from some other audit companies. We know that every business is unique and requires a custom workflow to achieve the standards of halal.
For instance what is relevant for the dairy industry may not be for a firm producing oils or grain. Halal cosmetics manufacturers will need a different set of steps and guidelines than food and beverage distributors.
So while the end goal is always the same – 100% compliance with religious law – the means by which you get there need to be created with the reality of your business in mind.
However, that doesn't mean our process is overly complicated. We know how important your certification is and how busy you are with your business. That's why we pride ourselves on clear communication and dedicated assistance in our partnerships. The bottom line? We want you to become halal-certified and we're ready to help!
Every Industry is Unique
As part of our audit process, we'll gather information on your current practices. We'll look for potential problem areas in your supply chain, and design guidelines for your team to follow, in order to become (and remain) halal.
We've worked with Canadian companies in all of the country's major industries, such as:
Dairy products
Bakery production
Grain and oilseed milling
Beverages production
We have decades of experience. We know what it takes to build a winning strategy for businesses of any size and industry. You can rely on us to get the job done.
Wondering How We Approach Your Industry?
The End Goal is the Same
While strategies and workflows may vary based on industry, there are several facts which unite all of our clients
Every step of the process must be halal. From sourcing to manufacturing, storage and distribution to B2B or B2C sales, each link in the supply chain must follow the guidelines set forth in the Quran.
At no point, can ingredients, workspaces, or products be contaminated with any haram ingredient or substance.
Only through a well-designed process can you maintain halal certification in Canada.